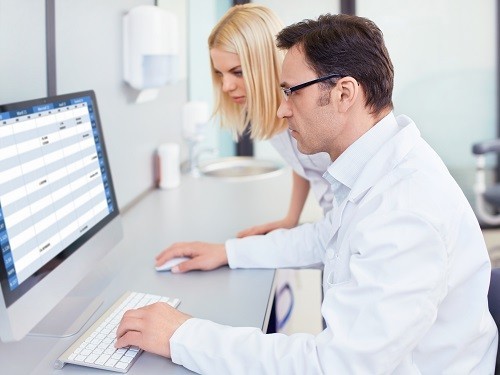 Why you need a new medical specialty, how to train doctors, researchers, why you should rebuild the training pharmacists, and what it takes to attract foreign students, said the rector of the First MSMU n.a. I. M. Sechenov academician Pyotr Glybochko at the meeting with journalists held in the Congress center of the University at student day.
About new professions
In 2018 the First Moscow state medical University will be four new health professions associated with innovative technologies. The University will begin to train specialists in occupations: network physician, IT physician, a specialist in tissue engineering and molecular nutritionist. While they entered in the course of post-graduate training, and later formed in a separate direction of preparation in undergraduate studies. In addition, the "road map" of development of the University in 2018-2020 there are 14 new directions of training of doctors.
The need for network doctors and IT-the doctors (engineers with medical training) dictates which entered into force a law on telemedicine, explained Glybochko. "These professionals will be in demand for a maximum period of two years, – said the academician. – As soon as you go active it projects, creating databases, you will need people who are able to work with it, and doctors will begin to send their employees for training".
Experts in tissue engineering will create new biomaterials and cellular products, to grow artificial organs and tissues for purposes of transplantation and in addition to receiving basic medical education, will study materials science. Molecular nutritionist will select the patient's individual plan of nutrition on a molecular level, corresponding to its genetic characteristics (even today, in the University Department of sports medicine and rehabilitation has created a bionic power).
About the doctors-researchers
According to Glybochko, First Moscow state medical University today is not manovas, and a scientific and educational Corporation, "new directions, new traditions, new equipment", which trains not only doctors, but also biophysicists, engineers, biotechnologists. By 2020, the University will be created a Scientific-technical Park of Biomedicine, which will study and conduct research "doctors of the future," said the rector. Work on this project began five years ago. Annually under the program "medical researcher" the University selects the top 100 third-year students from all medical universities in the country. Two years in this specialty for admission to the first year, and the average score for the exam this year students admitted to the "medicine of the future" was 99.
"We are preparing for future physicians jobs with an average salary of 120 thousand roubles a month, – told Glybochko. – We provide comfortable apartments in the dorms. For each student's mandatory internship abroad. Only on this program today we have trained 500 talented young people, and we hope that they will work in our science and technology Park, do not leave the country". According to him, if in the future there will be a need for doctors-researchers in the regions, the University is ready to develop their targeted training.
About criticism
«Today we hear criticism that when there are not enough family doctors, we are engaged in new professions, for which there is no request. But if we fail to look 5-10 years ahead, we will lag"–explains the rector. He recalled that when in the late 90's- early 2000-ies in the country had neither CT nor MRI, doctors beam diagnostics trained on older devices. And when, thanks to the modernization, there was new equipment, it there was no one to work, and shots from all over the country were sent to the description in the center. The same thing happened when Russia went through endoscopic techniques.
"Now we have built this system, the country has competent cadres, but now we know about the huge need for specialists to robotic surgery equipment in the country we already have, and doctors are sorely lacking – told Glybochko. We have in Sechenovka already opened a training center in this area. We have schooled abroad ten of their employees. Today they operate with the robot "Da Vinci" and teach the visitors to our doctors at the country's only robot-simulator. And tomorrow in Russian hospitals will come regenerative medicine, and we must ensure their skills in these technology professionals. But still it is necessary to prepare teachers, so today we are training for specialists who will be ready to deploy this training here. Of course, we can criticize, but the country needs this University, which trains specialists of the future."
That the University provides quality modern education, says, and increasing every year the number of foreign students, said the rector. If in 2016, we studied 900 people from 80 States, in 2017, when Sechenovka included in the international rankings, already 1.5 thousand. In the next academic year it is planned to take 3.5 thousand foreigners. To teach them the Russian language in the University was specially created Institute of linguistics (after the first three years of study in English, foreign students go on clinical bases, where should be able to speak with the patient and gather medical history in the Russian language).
According to Glybochko, the first to always go harder, "the snow belt". The University was also criticized when in 2010 he began to develop simulation education. Now simulation centres and phantom classes in every College in the country. Traditional school involves learning at the bedside, and University clinical center 3.5 thousand beds, located within walking distance from the academic buildings. But today, it is difficult to imagine how we can allow the doctor to some kind of manipulation, if it is not trained on the simulator. And family doctors, according to the academician, not enough, not because the schools they are not prepared. In only one Sechenovskiy the University of the state order – 1,5 thousand specialists per year. The reason is that it does not create conditions for their work, no social support.
On the new institutions
Glybochko reported on a major reorganization of the University, which has been held in recent years. So, were opened 8 new institutes (translational medicine, dental, etc.): according to the rector, showed that merging departments allows you to focus resources and makes them more competitive.
In the near future will Institute of pharmacy. In a new building in Troparevo will house the departments, laboratories, vivaria, conditions will be created for the full cycle of research necessary for creating new drugs. Plus it is planned to reconsider approaches to training pharmacists to meet the growing demand for specialists of pharmaceutical production. According to Glybochko, today, the major pharmaceutical companies saying that they have to re-train pharmacists to work in production. "We are not shying away from training for pharmacies, – said rector, and pharmacists are needed. But you have to understand, in what quantity, and at once to prepare an expert for a specific industry. We offer such a path: we leave the training of pharmacists, but since the senior courses on contracts with firms to prepare so many experts, how many go back to work. The graduate will immediately place of work, a good salary. In addition, the employer pays them a stipend, plus pay the University".
About doctors in General practice for Moscow
Another variant of the task order will be coordinated with the Department of health in Moscow, where recently launched the pilot project "Young professional capital of health". According to Glybochko, the city has invested heavily in the modernization of the material base of health and now he needs a skilled workforce. Since February of this year, the University will begin the training of General practitioners for Metropolitan clinics within their seticornis. The first set of 200 students of medical faculty will be trained in their spare time program. Under contracts that conclude with them the municipal health Department, students will receive a scholarship in the amount of 25 thousand rubles, and after completing his studies and passing the initial accreditation will have to work for three years by General practitioners in a particular city clinic.