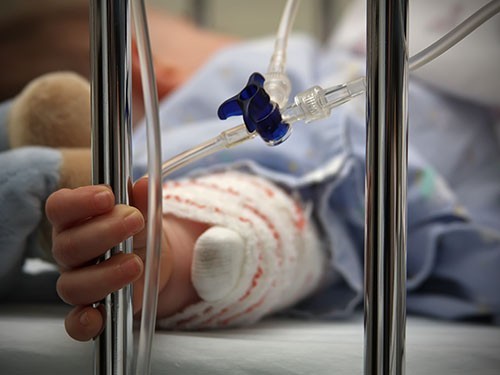 Charity Fund "Children's palliative" has released a manual "to Allow is impossible to forbid". 20 questions and answers for nurses, staff in resuscitation and intensive care unit (Picu). The manual on the finer points of joint stay of parents with critically ill children, contains recommendations of psychologists and pediatric intensive care specialists about how to behave in difficult situations, to find a common language with relatives of patients and become allies with them.
At the time, how in the world medicine joint stay of parents and children in the ICU become the standard, most Russian hospitals, this is not possible. And today, it is important not only to remove all obstacles to the quality of palliative care for children restrictions and prohibitions, but also to change the psychology of the medical staff, the authors of the manual.
"20 questions and answers" – the result of the analysis of numerous discussions, comments and questionnaires nurses, which helped to identify the main barriers, doubts and fears associated with the presence of relatives in the ICU the Director of Fund "Children's palliative" Karina Vartanova. Professional advice should help the nurses to change the point of view to familiar situations and to build constructive relations with colleagues and relatives of the patients. "On the shoulders of nurses, especially in NICU, is a big responsibility, so it is natural that they resist change. And when you realize that the child's parents are helpers and allies, their attitude to the "open ICU" is changing dramatically," – said Vartanova.
"Inadequate parents»
Most often, nurses are asked about how you can allow parents to be in the NICU if they are often inadequate. And then, explain psychologists, then, how you react and behave the parents depends not only on their education levels and upbringing, but primarily on what stage of making diagnosis they are in. The most "prepared" parents have long seriously ill children who understand and do not interfere in the work of staff. But taken aback by people whose children yesterday healthy and happy, suddenly found themselves in the NICU, very rarely able to cope with their emotions and experiences. And it is necessary to remember not to rely on the parents, not trying to make excuses not to get involved in the conflict. "The lack of information combined with a high level of anxiety is a breeding ground for conflicts. It trained medical providers can help parents to find the lost value. To fight takes much more energy than on cooperation", – stated in the manual.
Prevention of parent alarms
Almost all the NICU is a chronic shortage of staff, the staff is overloaded. And where we take the time to talk with parents, answer their questions, to calm, asking the nurses. According to the head of service of the intensive care unit of children's Republican clinical hospital of Tatarstan Igor Zakirov, inogda in the Department roleplay. "Suppose the nurse is really urgent work, and then the parent enters the chamber. What can I do? In response to the greeting: "Good afternoon, we are waiting for you, I'll explain everything and help, here is a solution for the treatment of hands…". So the nurse use the imaginary freedom, and by offering a limited number of behaviors, controls the process, without breaking your work schedule" – is the textbook story Zakirova.
In addition, the presence of relatives with your sick child can help not only him but also the staff. "Try to count how much time per day goes from nurses to sanitation, turning, change of bed linen, washing every patient? Much more than to intelligently and calmly explain to her that she can do. The child is always under supervision, for it is always clean, choose a comfortable posture. No the nurse will not be like my mom every hour to turn it, because it's supposed to do every three hours, and she had several children. Another plus: the presence of a parent frees up time, which it can use to care for other patients.
Parents involvement in child care is a great way to prevent parental anxiety and fears, and therefore reduce the number of questions that have to answer to doctors. Participation in child care can be for parents way to cope with their own stress, to give the opportunity to feel desired, to concentrate on some specific cases, and it has a calming effect on even the most restless of people.
Interference in the work of
Among the nurses was a widespread view that parents can willfully intervene in the operation of equipment (something to disable toggle, remove catheters, etc.). "The fact that the patient himself can turn around and pull something out of the instrument – catheter, drainage – quoted authors head. Department of intensive care Mytishchi city clinical hospital of Constantine Veresova. The same thing can do and parents clumsy hands. But again, this is not a risk, and the question of fixing themselves medical devices… of Course, parents need to explain what you can do, and what not. And better not just to tell but show. If the child is initially severe, with progressive pathology, sooner or later he will appear more and more equipment, more procedures, and parent should become familiar with all of this".
Sometimes it happens that the parents are trying to dictate how to treat the child, trying to correct the actions of nurses, to give advice and guidance.In such situations, nurses are advised not to take it all in, and the increased vigilance of parents to therapy to use for the benefit of the child: parents, responsive to every breath of the child, can be the first to notice the slightest change in his behavior and health. You can ask the parents to keep a diary of observations and report any changes they have noticed, that is to offer them a specific role in the process, which will channel their energies in a more constructive direction. And not to forget to thank for the information that they will share.
Violation sanaperheita
One of the most common stereotypes – parents can be carriers of various infections and do not expose patients to additional risks. Meanwhile, in Sanping there is no explicit prohibition of joint stay of parents with children in the NICU. But there are a few simple rules: wash and disinfect the hands (of physicians developed this action almost reflexively, and visitors need to be reminded), clean clothes lint-free, clean or disposable gown, removed the hair, the lack of infectious diseases. «Of course, we are afraid of nosocomial infection and constantly struggle with it, but the parents for this have nothing to do says Zakirov. – Note the term — nosocomial, but rather the parents themselves in danger, so they're not picked up. And if you come to me with SARS – will not let".
The lack of conditions
One of the most common arguments against the presence of parents in the NICU is the absolute inability for this Russian intensive care units. But there are no such conditions in most children's hospitals. But practice shows that the most important is still not square meters, and the position (chief physician, head of Department, staff the NICU). Somewhere turns out to be sufficient folding chairs and portable screens, so family members can stay with your baby. But somewhere they are often not allowed even in those hospitals where there is quite a decent material and technical conditions. "Of course, it would be wonderful if all our children's hospitals had well-designed rooms, rest rooms for staff and relatives – believe authors. – Perhaps, someday, in a happy tomorrow, so be it. But we live today. And children end up in the NICU today, and that today it is very important to be close to them could be their loved ones".