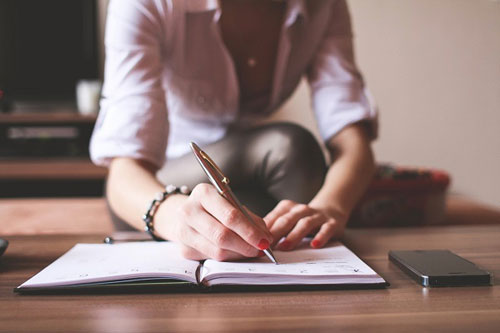 Most of you know that all of man's troubles come… where? From the head. It is our thoughts generate all that happened to us in the past, happening now and will happen in the future. "The list of hundred" — it is a new technique of identifying and solving problems. Probably the first time you open the truth of being and essence of man (although anything is possible), but at least you learn about yourself and discover something new.
So, the technique is this: you need to write on the sheet 100 points on a specific topic (examples of topics below). If you don't fancy any of them, you can write on that topic that you have chosen yourself or that needs to be addressed or your thoughts.
Requirements and tips for compiling your list:
1. The list should consist of one hundred points. More — perhaps less — no. There is a statement that such an amount is required to not only to write visible things, but to get to the subconscious, pull out its entrails all, that is the true desires, problems, issues, etc.
2. Not interrupt. To make technology the greatest effect, should not be distracted by phone calls, at lunch or watching a TV show, they say, will add later, I still have a lot of time. This is absolutely unacceptable! The thing is that the first 30 items on your list you write without much effort, thoughts will flow flow, and you will not notice how filled your sheet. The next 30-40 will be more difficult to write, but do not despair. Brainstorming was invented not in vain: all your thought processes are already activated, so if you're distracted for an hour or two to complete the list, finish it already you probably will fail. The last 30 points are the most important, because thoughts are not from consciousness and from the subconscious. You begin to speak your secret desires and thoughts, so pay a lot of attention to them, listen to yourself.
3. Perform each exercise at a time. In the previous paragraph I explained why it is not necessary to stop and promise yourself to finish it "tomorrow" or "sometime during the week" because then the compilation of the list will have no use.
4. Write whatever comes to mind. Write down all thoughts or desires, even if they seem absurd.
5. Do not exercise without wanting. If right now you are afraid to imagine that you have to think and write, the mood entirely, and the house still a lot of cases — it is better to leave exercise for the next time when you know you will not be distracted and you will be in a good mood.
Examples of topics for creating your list:
100 methods of self-development.

100 things I want or need to do this year.

100 things I love/hate about myself.

100 questions I would like answers.

100 ways how to improve their lives.

100 things I would do if I had the time or money.

100 things I must do in my life.

100 things I regret.

100 things I can do for others.

100 my fears today.

100 things that put me off.

100 of my achievements which I am proud.

100 things (places, people) that I love.

100 gifts that I would like to have.

100 places I want to visit.

100 phrases that I would like to hear.

100 things that make me tears/laughter.

100 people I would like to meet you.

100 tips that I would give to friends, kids.

100 of my cherished dreams.
Another small tip: if you are not sure that you can complete the list on your chosen topic, it is better to take another. Take one that is close to you. Also, try to keep your "lists" do not throw away immediately after the preparation, so you can contact them or at least for the pleasure to read in a few years.
Victoria,