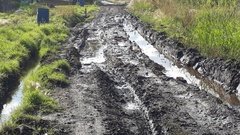 In the city of Barabinsk of the Novosibirsk region ambulance for off-road slid into a ditch.
40-year-old man, who hurried doctors, has died, reports Ngs.ru.
According to a neighbor, an ambulance, trying to avoid the mud, slid into a ditch — the paramedic reached the house on foot, but the victim needed hospitalization. "Then caused the second car. She pulled up, tried to pull out first, while doctors in the house fought for the guy's life, but were unable to save him — he died in their hands."
The deceased is survived by two minor children. "Even in Junior school I did not go. Now as one mother to nurture them? And the worst thing that a person are unable to bring home after the morgue and the parting had been in the memorial hall. The reason, again, in the same way — just did not dare to carry," says the neighbor.
She has published in "Vkontakte" an open letter, in which he described this case. In the comments under the post came the answer of the Ministry of transport of the Novosibirsk region":
"Rut in the street Lunacharsky is scheduled to be addressed in the near future, upon the occurrence of favorable weather conditions. Sincerely, Ministry of transport of the Novosibirsk region".